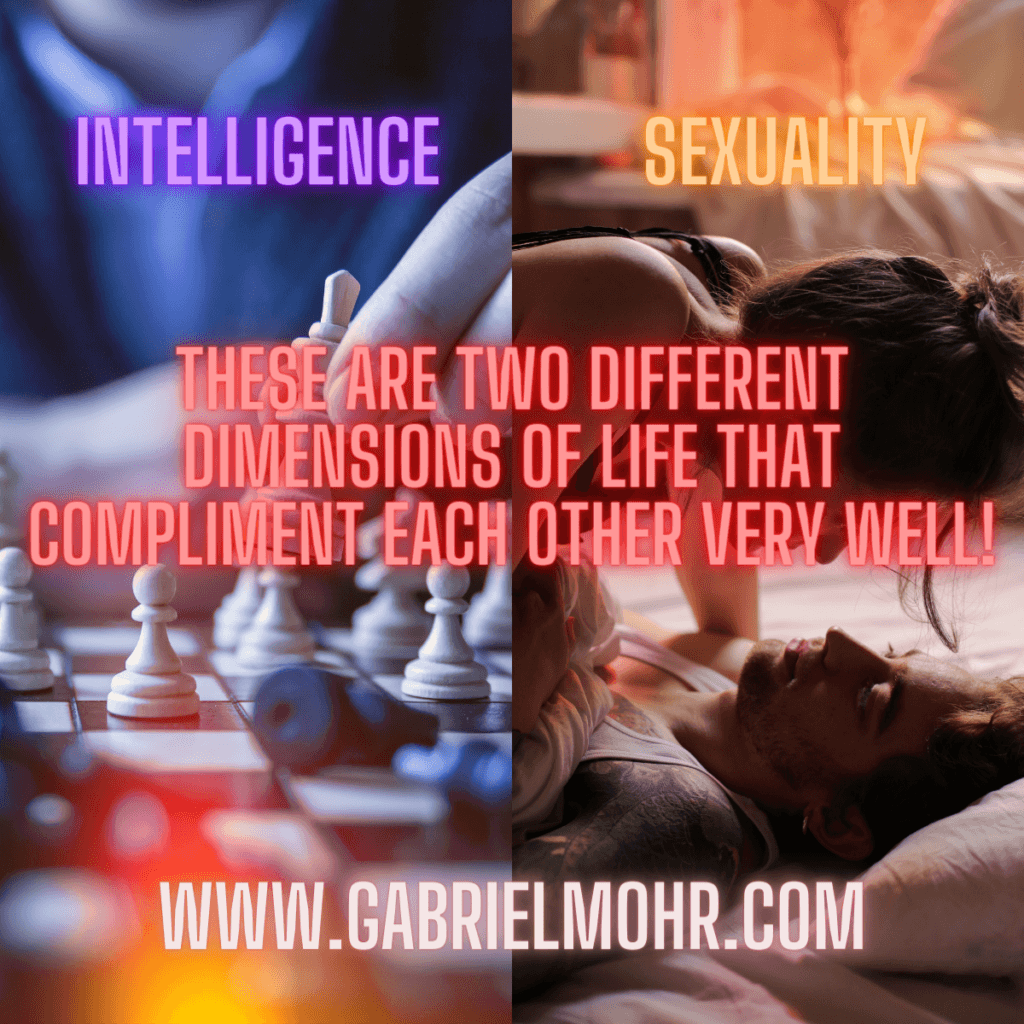 Quick Fact
-Being highly intelligent without the ability to enjoy yourself and being highly sexual without the ability to think ahead isn't the best combination! However, developing our opposite quality is an amazing idea for experiencing wellbeing, less pain, and more overall fulfillment!
Intro
In this post, I'll explain why I make such a wild claim, and how it affects our lives. I'll also explain how to solve this problem if we happen to have one quality and not the other. Enjoy the read!
Beginnings
It's often the case that intelligent people aren't in-tune with/able to control their sexuality, and it's often the case that sexual people… Aren't able to observe, make solid conclusions, and act accordingly.
Part of this is because intelligence and sexuality are two completely separate dimensions of existence! The intelligent operate in the world of logic and the sexual operate in the world of irrationality. By the way, I sense that many people attach a negative connotation around the word "irrational" and its immediate family – irrational simply means "not logical" or "the world of feeling."
I also argue that the intelligent have a lot to learn from the sexual and that the sexual have a lot to learn from the intelligent. In fact, I argue that if these two kinds of people don't study and develop the opposite dimension in their life their quality of life will, in general, be lacking if not completely vacant. And here I go as I make my case!
Opposites? What's That All About?
I want to put this in the perspective of colors for a moment; intelligence operates on the frequency of purple while sexuality operates on the frequency of orange. The color spectrum goes in the order of ROYGBIV, or red-orange-yellow-green-blue-indigo-violet with red starting at roughly 400THz and violet starting at roughly 668THz (source). This is why the chakra system operates with the root chakra (which is traditionally red) being at the bottom of your body and the ajna chakra (which is traditionally indigo) being at the top of your body. Your being/beliefs/emotions are on a certain point on this spectrum, which means they are represented by a certain color since color is, literally, vibration.
This means that, if your third eye is open, a sexual comment or remark will probably appear orange, and an intelligent remark will appear purple. And, since orange is on the other side of the color spectrum than intelligence they come across to each other as being foreign and not understandable.
And no, intelligence isn't "better" than sexuality because it's higher on the frequency chart, they're simply two wavelengths. Neither is good or bad until we add our own connotations to them. It's just that these two wavelengths, in particular, can synergize well with each other if and when they decide to learn from each other and develop their opposite qualities within themselves.
Intelligence
It seems to me that many intelligent people do not focus on the sexual parts of themselves because they're always focused on other things. Perhaps they're thinking, perhaps they have other matters to attend to, perhaps they believe that sexuality is to be transcended/not worth paying any attention to. Either way, I've noticed that a lot of otherwise intelligent people go empty-handed when it comes to sexual matters and that the intelligent can benefit from fulfilling their sexual desires more than most people.
What can an intelligent person gain from developing their sexuality? Well, many things:
-The ability and willingness to create (in general)
-How to relax and have a good time (in general)
-The ability to convey their information in a fun and natural way.
-The ability to flirt and (surprise!) have fulfilling sex!
-The ability to control their sexual urges, fulfill them, and keep them from subconsciously controlling their life.
And besides this, it's fairly easy to sexually develop even if you're starting from scratch: pay attention to your fantasies and desires, learn what you like during sex and masturbation, consciously create that feeling of playfulness/passion during meditation and you'll be going leaps and bounds!
Sexuality
I've seen many people who are highly sexual and also highly destructive to other people's lives. These are the kinds of people who ought to develop their intelligence if for no other reason than to be a pleasure in people's lives instead of a pain. Also, developing your intelligence will enable you to be highly seductive since seduction requires well-developed sexuality as well as calculated movement.
What can a sexual person gain from developing their intelligence?
-The ability to effectively flirt and seduce.
-The ability to be a pleasure in people's lives without destroying themselves and others!
-The ability to think, speak and write effectively are strong qualities in and of themselves.
-Impulse control if necessary!
It seems as if it's harder for sexual people to develop their intelligence than it is for intelligent people to develop their sexuality. Nevertheless, if you're more sexual than intellectual, I highly encourage you to learn, think, and come to your own conclusions about things so that you can live a more fulfilled life!
One Without The Other Often Creates Pain
A line I say in my upcoming book is "abstraction without satisfaction is precisely miserable." Sure, I'll be talking about love when I say that (which is green energy) but it applies to sexuality as well.
On the other hand, most of us have seen or experienced what it's like to act on sexual feelings without thinking of or preparing for the possible consequences. To only be a sexual being with little logical intelligence is just as if not more miserable.
I sound blunt and to the point when I say these things but I mean it! I'm tired of seeing you guys in pain, both of you! I'm tired of being told that "everything's okay" when I can clearly see that it's not. I want both of you, both kinds of people, to develop the dimension that's opposite of the one you inhabit because it'll be one of the best things you'll ever do for yourself!
Examples
The most prominent example I can think of is me. I used to be very, very sexually undeveloped until I read this $19.99 pamphlet that's on sale and that you should buy instantly before it's gone in 1 hour!
*Smiles*
No, I paid attention to my fantasies, did some exploring, found out who and what I like, learned how to create and control massive amounts of sexual energy, and learned how to properly flirt. I thought it was a waste of time to do this since my life was otherwise very solid, but when I figured out exactly how much was hidden away in my subconscious I'm very glad that I went through with it…
Nowadays I'm much happier, able to control my impulses well, and I'm able to control my sexuality and inject it into my work instead of letting it control me. Since developing my opposite characteristic helped me so much I recommend you develop your opposite characteristic as well 🙂
Conclusion
Thank you for reading! This is an unconventional view on these two polarities and I hope I haven't made you uncomfortable. At the same time, I hope you take my suggestion to heart and consider how it applies in your life! I'll see you in the next article!