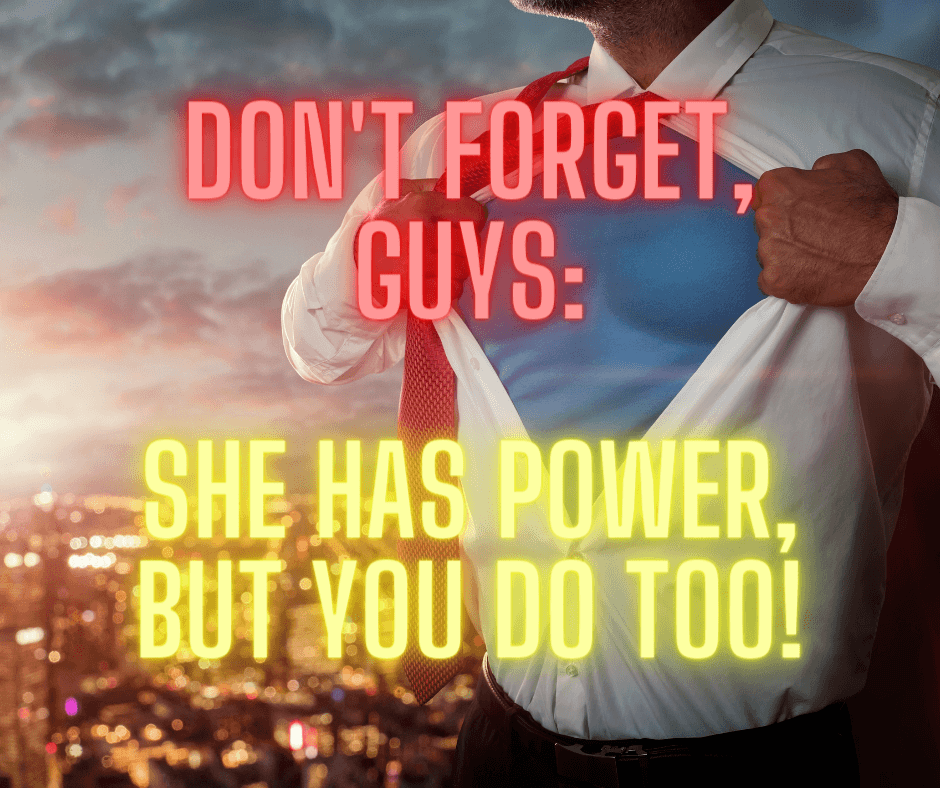 Quick Fact
-Many women have a lot of power, but we men do as well! One of the best forms of power we have is divine masculinity.
Intro
Anti-feminist warning! As I write this post I'm realizing exactly how controversial it's going to be. This post is all about men staying in their positive power around women, so if you believe that men are the patriarchy and that we should be done away with, I encourage you to keep reading more than anyone else ).
I see many men go for and stay with women who they are hardly attracted to, let alone in love with! It's almost as if women wield the magical ability to turn a guy on, mate with him, then have him want her for the rest of his life, even if she's detrimental to his wellbeing, and even if he knows that!
I love to address this because if there's one thing I've learned about us men it's this; you have power too! Let me explain my case!
The Power Dynamic Between Men and Women
Men are (usually) more easily attracted to women than women are attracted to men. Men are like a propane stove and women are like an oven. But what's interesting to me is the tiny amount of attention many men need compared to the opposite, I'd say that many women could give 1 and get 100 whereas many men would give 10 and get 1. Not to mention the vast amount of things most men are willing to overlook (personality flaws, irritating habits, etc) compared to, what is sometimes, the opposite.
So what gives? I think the basic truth of men feeling attraction far faster than women has a lot to do with it, but that a new truth should also be discussed – men's attraction for women is far higher and greater than women's attraction for men, generally speaking. This hypothesis explains the dynamic where the man feels as if he doesn't deserve his wife (due to his perception of her being too high-class) and the woman feels sad on a deep level, which is a dynamic I see in a lot of places.
Some women even figure this out, that is, just how strong and influential men's attraction for women can be. Some even use it to manipulate men and get them to do what they want.
But what men need to figure out is that this attraction they feel is, indeed, a feeling and that they can use it as energy to act or speak as they choose! So, if a woman flirts with you but it doesn't go anywhere, it's very possible for you to use the energy you'd usually spend fantasizing about her to complete that work project, or even to be romantic to your girlfriend when you get home!
No matter which emotion you feel and at which time, you always have control in the midst of it. I'm not saying to suppress your emotions, nor am I saying that you should never lose control (IE, for sex and flirting), but I am saying that when you have conscious control of what is done when you feel the attraction (or even the anger), you will be on equal footing with the woman.
Why Do Men Pursue Even If It Hurts Them?
Some men are even willing to sacrifice their well-being to be with their woman. These kinds of men become apparent when the goddess they were dating turns into a manipulation machine after marriage. I suppose you're still in love with the goddess they were dating? But dude, look at how she treats you!
Part of it is convenience, part of it is an inability/unwillingness to see who she actually is, part of it is ignorance, and part of it is his strong attraction towards her (if he still feels it). The common denominator here is that there's a stunning lack of self-respect and self-confidence (usually from both sides), and from my experience, confidence is truly the only thing a man needs to be on equal grounds with any woman.
Sometimes (and I've even experienced this for myself) a man is confident in every area of his life, except when it comes to his woman. He'll be intimidated, let her walk all over him, all kinds of stuff… What this kind of man should realize is that he can and should feel confident around her, even if she doesn't pleasantly respond to it.
Confidence is a regenerative emotion, it helps with your digestive and immune systems, and if someone you're with is against you being healthy then don't be around them!
The "Rush and Tension" Effect
Particularly when the relationship is new both parties can fall into something I call the "rush and tension" effect. Flirting, sexual innuendos, not being able to be with each other 24/7, and more can bring up a feeling that's quite unique in and of itself. Usually, it ends after either the first or first few sexual experiences, but the pursuit for the same feeling (or at least the desire to pursue it) almost always remains after it ends.
It feels really good so it must be worth going for, right? Well… To an extent. I compare it to playing video games, you don't want to succumb to Halo too often because it'll be terrible for other parts of your life. You don't want to succumb to the pursuit of R&T 24/7, consciously or subconsciously, even though that's often easier said than done.
The best way to eliminate the perceived need for R&T is, once again, confidence. Yellow and red energy. R&T is very orange, and it has its place, but if you or someone you know seems to be pursuing it and it's ruining their lives, choosing to be confident around women is almost always the best possible solution!
Being In Your Own Power and Space
Besides being an amazing option to repel dangus women, feeling a strong sense of passion and self is truly a fulfilling way to live life as a whole! Being in your own positive energy is physically beneficial, it gives you the best possible chance for the best possible future, it brings you meaning and purpose… All of these things have confidence and passion as their root, and it all begins with a choice. "I choose to feel confident, no matter what happens!" "I choose to feel passionate about life!"
Having naysayers and people who try to tell you different have their place too – they'll test you so that you can see if your sense of self is strong enough to overcome their opinions. But ultimately, it's a choice that's made on a consistent basis, and if you decide to feel a larger level of confidence and passion than you already do, you'll interact with women in the way that's best for the both of you, and not just for her.
Conclusion
Thank you for taking the time to read my article! I understand that this kind of material is counter-feminist but it does happen to be the truth, so that's the main reason I brought it up!
I encourage you to meditate before reading the next article 🙂