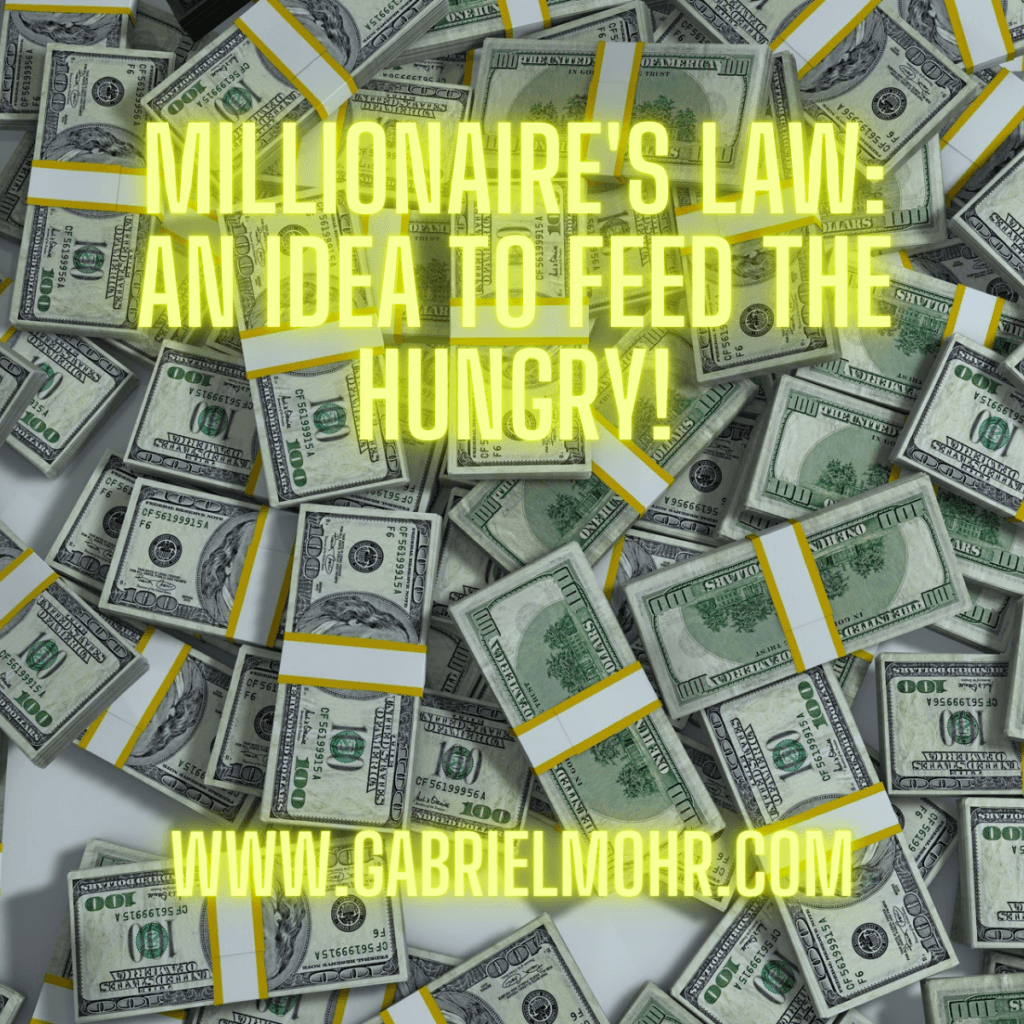 Quick Fact
-Many people are starving in this world, and having everyone pitch in will solve this problem for good!
Intro
We have many wealthy people in America and around the world. Unfortunately, even though these people take care of their needs and the needs of everyone immediately around them, they tend to hold onto their money with a tight grasp and an armored heart. This is why we should push for a law that changes this.
What Is The Millionaire's Law?
The law is simple in concept and difficult to execute; if a person/company makes $1,000,000 or more per year a certain amount is required to go towards food/water/shelter for the people who need it. My number is $10,000 per $1,000,000 earned, I want $10,000 out of every million/yr to be put towards human wellbeing as required by law, however, I am uncertain of what a reasonable number looks like. For clarity's sake, this means that if a company earns $4,000,000 in a year, $40,000 of that goes to charity; the fee increases or decreases depending on how many millions they make.
If and when the law is purposely disobeyed the disobeying party is to pay double the amount per million they make. If and when they disobey the new punishment they are to step down from the position they're in and have somebody competent run the company/project.
We can also make it simple; when the payment is due all they have to do is pay to a certain organization. That organization is then responsible for making sure the money is given to groups and organizations that are providing food/water/shelter to those that need it.
Also, we can create this law so it affects people who've already earned a lot of money but who are unwilling to give it away. We can name names and tell specific people to give some of what they have or else they'll face severe consequences, such as Jeff Bezos. If we do not require certain rich people to pay towards human wellbeing we'll certainly be missing out on a more wonderful life!
Why Implement It?
People's well-being is more important than obtaining money. Many wealthy people are wealthy because they are heartless, because they're okay with screwing other people over and getting rich off of their ignorance. ML should be implemented as a counter to this, we don't want people getting wealthy and creating monopolies without giving back!
Final Thoughts
This is different from socialism because only a small amount of people are required to donate, and because the capitalist structure still stays in place.
We the people have the power to push for this and make it happen! This isn't something we have to sit around and wait for someone else to do, we can write a representative and propose that this become law right now! I highly, highly encourage you to do so!
Conclusion
Thank you for reading my idea! If this resonates with you I encourage you to do your best to make it happen :). See you in the next post!