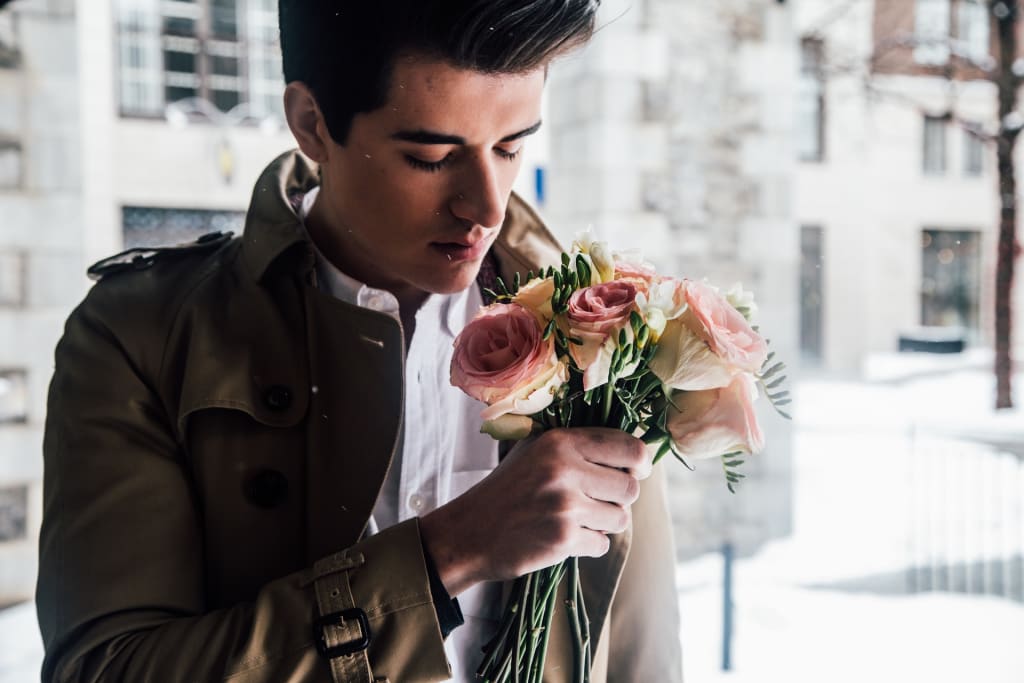 The city was alive with movement as people trickled in and out of the buildings with a relaxed expression in their manner. The streets were like a well-oiled machine as the cars stopped, then continued in the middle of a brisk windstorm. The sun, orange and vibrant, was setting beyond the horizon to give its light to another part of our beloved earth.
I stood in front of the mirror and looked at myself for the last time before heading out. A 3-piece suit, some expensive cologne, hair combed properly, and a proper shave later, I was ready to meet her – the woman every man wanted to take home on Friday night.
We had known about each other for a year, we even worked in the same building, albeit for different companies. We occasionally saw each other at the bar but I rarely went. I kept telling myself that I needed to be an upstanding influence for my employees when in reality, I just didn't want to go. There was nothing there I really wanted.
But tonight, she was who I wanted. Confident, beautiful, her walk could attract attention from 1,000 miles. Granted, I didn't have much experience in the dating field, but that wasn't going to stop me from approaching her and giving it everything I had, young personality and all.
I looked at my watch. It was 5:00, half an hour before she usually arrived. I figured I'd go there early and make my usual… Brazen entrance for the boys, before she got there.
—
I was talking to this strapping young man at the bar. He was younger than me by a year or two, but he had the kind of charisma I couldn't resist, even though I never show it. He was obviously trying to get me drunk by putting his money on the table, but I was only in the mood for a meloti… He understood. The conversation carried on like normal, the wine swirling in my glass and our eyes fixed on each other's.
I was early because, unbeknownst to everyone else, I took a special interest in my date tonight. I heard the stories of him being full of surprises, and doing different things for different kinds of people. I wondered what he was going to do for me… So, I wanted to make sure I was punctual, even if he was early tonight.
Suddenly, the door to the bar flung open and a man walked in with ferocious tenacity. I sensed a bold energy coming from this new person, and so did everyone else. We turned our heads to face him. He liked that. His face began beaming, the corners of his lips moved towards his eyes, and he threw back his shoulders.
"HOW ARE MY PEOPLE DOING… Tonight?" His eyes fixed on me, and I sensed his confidence level drop a notch or two. Was this one of the surprises? A special entrance for the regulars? He couldn't be serious. The bartender coughed and lowered his head, effectively telling him that his welcome was welcomed, but that there was a lady present. There was also a hint of, "play along with what I'm about to say" in his voice as he addressed him.
"Can I help you, sir?" He asked in a gruff voice.
"You can't… But she can!" He spoke with an odd tone, almost as if he was trying to be confident when he realized he had made a humorous mistake. I'm a confident woman, so it didn't phase me at all. I simply responded with,
"I won't be able to help you with anything! You've already done enough to embarrass yourself without trying to approach me."
Suddenly, I didn't want to go on a date with him, even though we set up the date a few weeks ago. This side of him was… A bit too much for me. It definitely wasn't my style.
"Well, that's fine! My other date is waiting in the car, care to join us anyway?" He said with a smirk on his lips.
His legs were shaking. He couldn't have been older than 24, 25, and he was really trying to bounce back from his… Obviously rash behavior. His comeback game needed some work as well. But there was something about him that was… Endearing. Charming, almost, although I wouldn't go that far. None of my previous men ever dared to act like this in front of me, even on accident. They were never 100% completely genuine, and I always found that to be a bit of a turnoff. But, he definitely had some work to do – and I wasn't about to waste my time teaching him the ropes. So, I told him the truth.
"I wanna see what you look like with your big boy pants on. Come back to me after you change." I gave him a wink and a smile. I turned back around to face my man, and he went in for the kiss. I enjoyed every, single, second of it!"
—
I walked out of the bar and made a beeline to my apartment. Once I was there I burst into a kind of laughter I hadn't felt in years, the kind of laugh that makes your belly ache and your sides completely sore.
I couldn't believe she was half an hour early! I was going to go in, say howdy-do to the boys, make some conversation… She'd come in, I'd treat her like a lady, and that would be that. But nooo! She had to already be there, talking to another man, no less! I couldn't believe it. It was the funniest thing I had ever experienced.
"And why would she say that? She doesn't actually like me, does she? There's no way…"
I put my head in my hands, embarrassment flowing through me and reminding me of what I just did. However, I slowly came to a realization, and my feeling of embarrassment changed to a feeling of invigoration.
"But… Of course. She noticed I was nervous, but she obviously liked something about me since she invited me to come back. So what'll I do… Maybe I'll improve. I'll read books. I'll search the internet for advice. I'll go on mock dates. I'll… I'll start right now, in fact!"
I got out my phone and typed in, "what is it that women want?" My eyes hungrily devoured the information I saw before me as I readjusted my perception and adapted to the changes I felt I needed to make.
2 hours later, I was ready.
"Okay… Confidence, assertiveness, security, and protectiveness. These are the things I'll focus on tonight. I'll just text Amanda and ask her to go on a mock date with me… We've been good friends for a while, so I'm sure she won't mind…"
*4 hours later*
"You're kidding me, right?"
"Nope. Get out of my house! You're asking too many questions!"
"A good man would let his woman stay the night. You aren't from around here, are you? I guess not, or else you'd know the proper way to treat a lady."
"Doesn't matter where I'm from. Outta my house!"
I was about to sit at his table for dinner, but instead I held my head high in the air as I walked out of his front door. A surge of pride flew through me as I showed him the entirety of his IQ and heard him yelling something back at me. Thankfully, it wasn't a long walk back to my car. I figured I'd just go home and enjoy the weekend with myself… I had no problem with that.
But, I felt something rise within me as I drove down the empty streets. Maybe it was the alcohol, and maybe it was because he didn't properly please me. I wanted to be with someone who was going to care for me and treat me with respect. Everyone else was asleep by now since they didn't go to bars and get drunk on the weekends… But, I knew one man who was awake!
I saw him in our building from time to time, charming and charismatic as he gave his employees their instructions for the day. I wondered what he was like, I wondered why it took us so long to officially meet each other… Then he burst into the bar! He was too brazen, certainly, but I was in the mood for a wild night. I was sure he wouldn't mind if I stopped by…
—
Holy cow, I feel great! The mock date was awesome. I learned a lot from people who know what they're doing. I think I can go to sleep content. Maybe I'll do it again tomorrow after work. You know what? I'm going to make it my goal. I want her by the end of the month! I'm going to keep improving myself, keep gaining experience, and I want her to be mine by the end of the month. Besides, she's at least somewhat interested, so I have a decent shot here…
My thoughts were interrupted by a knock at the door. I scrunched my forehead in confusion.
"Hello? Is it Randel?" He would often come over and we would play video games together, especially on the weekends, but he usually knocked way earlier than this.
"No…" came a sweet, seductive voice.
'Wait, I know who this is!' I thought to myself. 'Why is she here? Why now? Why am I suddenly feeling anxious all over again? Dang it! Okay… Compose yourself. Act natural. Confidence above everything else. Here I go.'
I stood up, straightened my shoulders, and opened the door. We stood there for what seemed like forever, looking at each other. She smiled, bit her lip, and looked me up and down.
"Hmm, you look handsome in your PJs," she said in a soft, pleasurable tone. She let herself in, turned on the light, and sat down at the kitchen table. She crossed her legs and flipped her hair back in a feisty manner – she was obviously into me. Somehow I felt confident and anxious at the same time, however, I didn't really know what to say. I was shocked! And she could see it.
"I'm hungry! Why don't you make me something to eat?"
'Wait, I just got done reading about this. Apparently, women tell their men what to do as a test to see if they're confident or not. I better respond properly – not in a rude way, but in a confident way.'
"Mi casa Su casa!" I said with a confident tone of voice as I motioned my hand towards the contraption.
—
After he said that, I began feeling even more girly than before, and I laughed like I hadn't laughed in a long time. Usually, my men were already well-established players in the field, but he was still learning and doing fairly well. I felt a certain kind of respect for that. I don't know why, but I got up from my chair, sighed a little, and walked towards him. I put my hands on his shoulders and slowly rocked back and forth, a gigantic smile on my face.
"So, what happened with the other guy?" Ew. I didn't want to think about that. Why did he mention him? Maybe he was still a little nervous and, most likely, insecure.
I pushed away from him in a half playful, half disgusted manner. I turned around, looking behind me while saying, "Don't worry about him. Turns out he wasn't the man he put himself out to be." I plopped myself down on his couch, and I was surprised at how comfortable it was. He walked up behind me and started giving me a shoulder massage. I didn't even have to say anything! Wow. He was learning… And he was learning fast.
"But you, on the other hand… There's something I like about you. The way you burst into the bar was a bit much… But, you have the courage to face your fears. And you just started giving me a massage without me saying a word. I'm kind of into you…"
He chuckled a little bit, and I felt myself tingle from head to toe. Okay… Maybe I did feel like teaching him a thing or two after all.
I quickly brushed his hands off me in a playful manner and got up and giggled all the way to the fridge. I really was hungry – we were supposed to eat at his place but we never got around to it. I found some steak and veggies in the freezer! He was going to love it.
As I pulled the food out I could see he was struggling, emotions were swirling as he was trying to figure out what he wanted to say to me. He was going through the possible scenarios in his head and discarding the ones he thought I wouldn't appreciate. To be honest, I didn't really care at that point. I just wanted him to say something. Anything. I wanted to respond to him. I found a pan and got the meat out of its package, placing it inside and turning the heat on.
"So… This is our first… Date, right? Honestly, I didn't know you went on dates."
Cute! A little brash, but cute. "What do you think I do when I walk out of the bar with a guy every Friday night? Sit on his couch and play video games with him? I go on dates all the time, silly!"
"I thought you only did… Other things with the guys you go on dates with."
I momentarily stopped what I was doing, rolled my eyes, and sighed. "Does everything have to be about that with you guys? I seriously think you have an obsession with it sometimes."
"Hmm… Don't even give me that" he said in a low, seductive tone. "You walk out of that bar with a different man almost every night…" I was impressed with how playful he was, considering his nervous behavior not 5 minutes before…
—
'Oh crap. Did I go too far? Maybe I shouldn't have said it like that. Maybe I shouldn't have progressed that quickly. Crap. How is she going to respond?'
—
I shot him a playful glance as the steak began frying in the pan. He raised his eyebrows… He didn't know if he went too far or not. Again, how cute! He thought he could go too far with someone like me…
"Oh yeah? Maybe I won't give you any steak…" Of course I was going to give him some steak. I just felt like saying it.
"Well… That's okay, I already ate" he said with a soft and humorous tone.
—
'Okay, okay, I've got this. I can do this. If I didn't go too far with that little comment, then I can work with this. In fact, I'm already proud of how far I've come. I won't beat myself up if I mess up.'
"Good! Then you won't mind if I have this steak allllll to myself…"
She spoke, and then I didn't know what to do. It was almost as if she was saying, "make me share with you." Obviously, I wasn't going to make her share with me, but I had an idea.
I walked to the utensil drawer and grabbed a fork and knife. The steak was still very rare, so I knew what I had to do. I slowly walked up behind her and put my hands on her stomach. She sighed, and she seemed to like it! But since one hand was on the handle and one hand was on the spatula, I quickly cut the steak into two pieces before she caught on! When she noticed what I did she squealed in delight and shouted "hey!" louder than she should've at 11 at night!
—
No way! He did exactly the right thing to do! Oh, my, god. It was so funny that I couldn't help but giggle like a little girl! And that's when he started tickling me! Laughter filled the room and probably woke up some of his neighbors. He started laughing too, and I could feel him loosening up a little bit. It was the perfect moment.
We kissed right then and there… And wow, was he a good kisser. He was a natural. I moaned a little as I moved into his lips. I could feel his anxiety coming back, so I pulled away so we wouldn't go too quickly and make him too nervous.
He could've asked me to swim in the river with him and I would have done it. How did he do it? How did he become so good so quickly? I was beginning to think this was his plan all along, and that he was secretly a mastermind, even though I knew that was silly. But he was just so good…
He must have seen the look in my eyes because he smiled a devilish smile. I turned back to the pan, praying he would turn off the flame and hold me again. I wondered what he would do.
—
'Wow, that felt great. I did the right thing. But she turned around again? Why? Didn't she want to laugh and play not 10 seconds ago? Hmm… Maybe I should do something again. But what? Wait, what if I just pulled her away from the stove or something? But, isn't she hungry? Hmm… I think I'll just go for it. We can always continue cooking later if she wants to.'
—
I felt 2 strong arms pull me away from the stove in a gentle but firm manner. "Hey," I said, and he started nibbling on my neck. Oh my gosh, he did something even better than before! I was really glad I went to his apartment that night, and I showed my appreciation by laughing once again, turning around, and kissing him as passionately as I could. He really liked that, and when we parted, we knew that tonight wasn't the only night we'd be spending together!